Product Description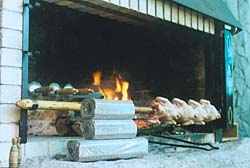 Only naturally clean raw material (i.e. the sawdust formed in felling and sawing wood) is used for the production of our ecological briquettes. First of all we dry the naturally clean sawdust and after that we compress the sawdust in hard compact briquette at a very high pressure without any adhesive or hardening substances.
The heating effectiveness of our briquettes is higher than the effectiveness of the best brown coal. They give minimum residual ash and all remains of the burning are completely harmless.
You can use our briquettes for all types of solid fuel stoves and steam boilers and they are especially suitable for fireplaces and barbeques. Our briquettes burn for half and an hour in a fireplace and after that they smoulder for another two hours.
---
Product Characteristics
Our briquettes are produced in compliance with all the quality requirements of this type of products according to the German Standard DIN 51731 as well as to the Austrian Standard ONORM 7135.
---
Packing and Transportation of the Product
We pack our product in polyethylene packing (10 and 40 kg), in shrink polyethylene film (10 kg), paper packing (10 kg) and in paper bags - 10 kg.
We put them on a EURO pallet and strengthen them by a bandage belt and polyethylene film for transportation. Delivery - all over the country. The after burning left ash is about 0.5-1%. They do not released any dangerous gases (see chart 2), and do not pollute the air and soil. The ash can be used as fertilizer.
---
Dangerous substances of the burning process
| | | | |
| --- | --- | --- | --- |
| | 1 t black coal | 1 t wood briquettes | For comparison |
| Ash | 26.5 kg | 0.3 kg | 88 times lower |
| SO2 | 30.0 kg | 0.0 kg | |
| N2O2 | 5.0 kg | 1.8 kg | 2.8 times lower |
| CO2 | 40.0 kg | 1.0 kg | 40 times lower |
---
EKOTERM - BULGARIA recycles sawdust into briquettes for heating according to a German technology through compressing of dried timber material without using any additional substances. Comparing the caloricity, one ton of the briquettes produced by ECOTERM is equal either to 1.03 t coal obtained from 6.7 to 8.9 m3 broad-leaved timber depending on their humidity or to 2.13 t coal dust briquettes. After their burning the left ash is only 0.5-1%.
---
WOOD WORKING – beams, planks, boards, laths, pallets. Average monthly output - 600 m3. The company works upon customer's orders and according to previous agreement. Average cost - approximately 200 BGL/m3, with possibility for monthly output - up to 1000 m3.
WAYS OF USING AND MAKING FIRE FOR BARBEQUE
In case the briquettes are situated crosswise in the barbeque, the grill will work for about 8 hours. Within 30 minutes after making the fire 1/3 of the barbeque is ready for use.
For express using of the barbeque the briquettes can be burnt at both ends simultaneously. In this way the grill will be ready within 30 or 40 minutes.
The packing is suitable for making the fire blaze. The handle is intended to be broken and used for fire regulating.
In case the briquettes are situated lengthwise in the barbeque, the grill will work for about 6 or 7 hours. Within 30 minutes after making the fire 1/3 of the barbeque is ready for use.